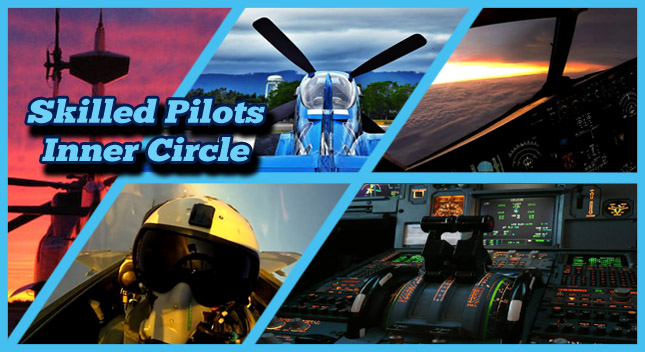 You can now join the Skilled Pilots Inner Circle, and become part of an elite group of pilots, aviation specialists, and aviation enthusiasts, that share stories, advice, news, and more.
This is what is included:
1) You will get private access to our closed Facebook group where you can hang out, arrange meet ups, exchange ideas, talk about the latest aviation news, share photos, videos, advice, stories and more. Hangout with pilots of aircraft such as f16, Tomcat, Boeing 777, Robinson R22, R44, R66, Bell Jet Ranger, Eurocopter EC-120, Dash-8, Airbus, Glider ASK21, C-17 Galaxy, and more.
2) You will receive four interviews each month. These will be send to you in a monthly newsletter that include the audio files and the transcripts of the interviews. We will interview Skilled Pilots of our Inner Circle and ask them all kinds of questions such as what aircraft do you fly, what license do you hold, how much experience do you have, when was your first solo flight, did you ever have a close call while flying, ever needed to perform a real emergency landing, something that you will never forget, tips for pilots, tips for student pilots, and tips for people who want to become a pilot. We will interview jet fighter pilots, helicopter pilots, airline pilots, glider pilots, balloon pilots, or other experts in the aviation industry. This will be awesome!
3) You will get the first blog posts, videos, and news from Skilled Pilots first, directly to your inbox. Never miss anything from Skilled Pilots again.
4) You will be able to win some cool giveaways each month, only for members of the Skilled Pilots Inner Circle.
Now is the time to become part of this elite group of pilots, aviation specialists, and aviation enthusiasts. How cool would that be? Are you ready to hang out with some real Top Guns!
You can now sign up for a one month trial for only $1. Yeah, a buck! After that it is $4,95 per month for charter members. Charter members will never see a price increase, so lock in now while the price is still this low.
Click on the "Get Instant Access" button below, and we'll see you in a second!